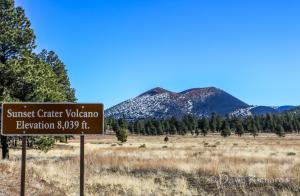 February 23, 2016 -- Awesome Arizona Volcanoes -- A Visit to Sunset Crater

I had known that there are volcanoes in Arizona, and I've driven by the sign to Sunset Crater National Monument just north of Flagstaff many times. Unfortunately, I had somehow associated this "crater" as being a smaller version of the nearby Meteor Crater near Winslow which I have visited. Meteor Crater is an awe inspiring one-mile diameter, 550 feet deep hole in the ground created by an asteroid crashing into the earth at 26,000 miles per hour.
So, we recently made a visit Sunset Crater to check out our state's volcano field. We were greeted to many unexpected surprises. First, the colors are beautiful! Then, there is the lava--and LOTS of it!
Legend has it that John Wesley Powell marveled at the stark, but beautiful volcanic landscape. He named the Sunset Crater for the red and gold colors along the rim of the crater in 1885.

As the youngest volcano within the Colorado Plateau, the last eruption of Sunset Crater occurred roughly 900 years ago. The cinder cone of Sunset Crater is 1,000 feet high and more than a mile wide at its base. While Sunset Crater was erupting, there were two lava flows that originated from the cinder cone. The Kana-A Flow emerged from the eastern base of the volcano and flowed more than 6 miles to the northeast filling a narrow valley. The Bonito Lava Flow started from the northwest base of the volcano and pooled over a 2 square mile area. It is noted to be at least 100 feet thick. There were continuous eruptions from this crater as is evidenced in the lava flow accumulations. A blanket of ash and cinders covers more than 800 square miles around the cinder cone.

There are nice hiking trails among the lava fields with one being concrete and handicap accessible. You can get up close to the cinder cone and see the red and gold colorings, but there are no hiking trails on the crater itself (protection). There is a such a beauty in the contrast of the dark lava and the Ponderosa Pines of the area. And we even had snow on a 70 degree day! Turning back toward Flagstaff and looking upon the snow-covered San Francisco Peaks is also a beautiful site.

There are also many well-preserved ancient pueblo ruins in the area that you can see within Wupatki National Monument. It is well worth the trip to stay on the road within Sunset Crater National Monument and continue the loop to Wupatki National Monument.

We have traveled to Hawaii to see volcanoes in two national parks there. But, I was so amazed to see this volcano and lava fields of this magnitude in my own back yard!